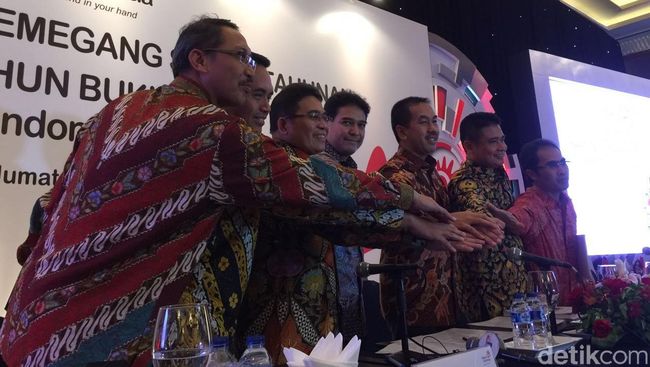 Jakarta – Rapat Umum Pemegang Saham Tahunan (RUPST) PT Telkom Indonesia Tbk (TLKM) Tahun Buku 2016 yang dilaksanakan di Hotel Pullman, Jakarta, hari ini menyetujui perubahan Susunan Pengurus Dewan Komisaris dan Dewan Direksi Perseroan.
Di jajaran Komisaris, Devy W Suradji menggantikan Pontas Tambunan. Rinaldi Firmansyah yang sebelumnya Komisaris Independen digeser menjadi Komisaris. Cahyana Ahmadjayadi diangkat menjadi Komisaris Independen.
Lalu di Dewan Direksi, diangkat 3 direktur baru, yaitu Mas'ud Khamid di posisi Direktur Consumer Service, Zulhelfi Abidin sebagai Direktur Network and IT Solution, dan David Bangun sebagai Direktur Digital and Strategic Portofolio.
Tiga orang di jajaran direksi lama, yaitu Muhammad Awaluddin, Indra Utoyo, dan Honesti Basyir mendapat penugasan di BUMN lain.
Berikut susunan Dewan Komisaris dan Dewan Direksi hasil RUPST Tahun Buku 2016, Jumat (21/4/2017).
Dewan Komisaris
Komisaris Utama: Hendri Saparini
Komisaris Independen: Dolfie Othniel Frederic Palit, Margiyono Darsasumarja, Pamiyati Pamela Johanna Waluyo, dan Cahyana Ahmadjayadi
Komisaris: Hadiyanto, Devy W Suradji, dan Rinaldi Firmansyah
Dewan Direksi
Direktur Utama: Alex J Sinaga
Direktur Keuangan: Harry M Zen
Direktur Consumer Service: Mas'ud Khamid
Direktur Human Capital Management: Herdy R Harman
Direktur Network and IT Solution: Zulhelfi Abidin
Direktur Digital and Strategic Portofolio: David Bangun
Direktur Wholesale and International Service: Abdus Somad Arief
Direktur Enterprise and Business Service: Dian Rachmawan (mca/fyk)